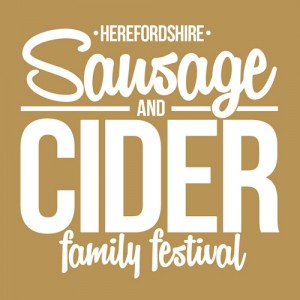 Looking for ideas on how to spend your August Bank Holiday weekend? How about heading to the green pastures of Herefordshire and celebrating the long weekend with friends and family, live music and a feast of sausages and ciders – along with other produce and a large selection of ales too. That's right, it's not long until the first Herefordshire Sausage and Cider Family Festival. All we have to hope for is some fine weather, although we're not ones for letting the rain stop our fun.
The Herefordshire Sausage and Cider Family Festival takes place over three days and has a host of activities, stalls and live music to keep you smiling and dancing while sampling plenty of delicious produce. The even better news is that the tickets are only £21.50 for a family, £6.50 for adults online or £8.50 on the gate, £5 for children online or £7 on the gate and under 3's don't have to spend a penny as they get in for free all weekend.
There's music for everyone from some of the top tribute acts in the country including, Born Jovi, Fake That, Kings of Lyon, The Beatalls, The Fillers, Kazabian, Stereotonics, Antartic Monkeys and Oasish. We're sure you'll be able to guess what bands they are a tribute too. There will also be live DJs playing everything from jazz to house music. Expect to find plenty of activities to help keep the youngest members of the family entertained too, a play area, fairground ride, trampolines, magicians, balloon making, face painting, a Punch and Judy show and if that's not enough, giant Minions!
The Herefordshire Sausage and Cider festival has been organised by 28 year old, Sam Mitcham. Same spent the past ten years living in Ibiza and the north of England, before returning home to Hereford, full of ideas and ambition for the area. Mr Mitcham feels the city is in need of some entertaining night life and the festival is just one of the ways he is using his skills to liven up Hereford.
The festival begins on August 29 and ends August 31, 2015 at the King George V playing fields in Hereford. The live music starts at midday, further times and the full line up are soon to be released on the official Facebook page.   You can buy your tickets online or at the gate, but be aware that there is no camping available. Click here to find suitable B&B's in the area if you're not local to the city.