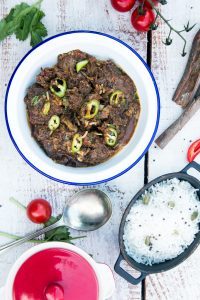 It's getting cold! Even though the weather is quite mild for October, a chill is in the air. Nights are getting pretty chilly and many families now have the heating on. It's the perfect time to get in the kitchen and cook up some delicious warming autumn beef recipes. Here's a small selection of some of our favourites.
Beef and Vegetable Soup
Here's an old-fashioned vegetable and beef soup that is the perfect comfort food. It's ridiculously easy to make and it's full of goodness. The great thing about soup is that it's easy to make it your own. Add only the vegetables you really enjoy and ask your butcher to cut up your Hereford beef into ½ inch pieces.  The full recipe is over on Genius Kitchen. It takes about 2 hours to prepare and will comfortably serve four.
Hereford Beef Curry
Warm up with a rich beef curry that can be made with Hereford beef shin or brisket. The curry can be prepared in advance, it's suitable for batch cooking too as it freezes beautifully. The curry recipe is tasty and fragrant, full of flavours such as cloves, cumin, cardamom, ginger, turmeric and chilli. The recipe is found in our beef recipes here on the Hereford beef website. Ask your butcher to cut the beef joint into 4 cm cubes to save yourself time in the kitchen. We recommend the marinade is coated onto the beef and placed in the fridge for between 12 to 24 hours before cooking.
Beef Casserole with Celeriac Mash
Here's a delicious recipe for beef casserole with celeriac mash. The mash is the perfect accompaniment and it tastes creamy and delicious. You need 500g of braising beef, diced up into small chunks. Liven up your casseroles with pumpkin. Halloween means there's plenty of pumpkin around. Don't waste the flesh, add it to your stews and casseroles and bump up your vegetable intake. The full recipe is over on the Great British Chefs website.
There are plenty of incredible beef recipes available all year round here on Hereford Beef. Don't forget to follow us on Facebook and Twitter for more recipe inspiration.