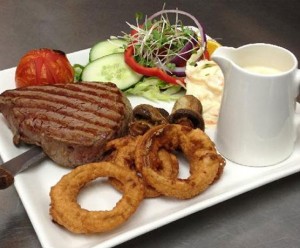 We're living in an age where we're all trying to improve our diets and ensure we get good quality food on our plates. Processed foods, although seen as practical, are now recognised for failing to provide our bodies with the healthy sustenance we need. Even in what appear to be healthy ingredients are large amounts of salt, sugars and fats.
If you're trying to avoid putting processed foods on your plate one of the easiest ways to achieve this is by changing how you shop. Spending time working out healthy meals for the whole family and writing shopping lists helps you to avoid filling up the shopping trolley with unhealthy options. Finding recipes, buying the ingredients and making it yourself is not only often cheaper it's also the ideal way of staying healthy.
Many supermarket meat counters and fresh meat aisles now stock Hereford Beef, but you can also find it from many butchers up and down the country. Butchers not only sell quality meat but they also are there with their expertise for you to learn from.  Talking to your butcher about your recipe ideas or how many people you're planning on cooking for will give him information so he's able to advise you on the best cuts or how much you need.  There are other benefits of heading to your local butcher too:
Get your Hereford beef cut to order – it's all included in the price so if you want it diced, sliced or boned or your porterhouse cut to a set thickness, you can ask your butcher and he'll do the hard work for you.
Your butcher will be able to recommend things to try and perhaps give you simple recipes. If you're not sure what cut of Hereford beef you want all you need to do is ask for some help. This gives you the perfect opportunity to try more than steak.
If you can't find Hereford Beef at your butchers you can always put in a request, or visit some of the online farm shops and stores that will deliver your quality meat direct to your door.