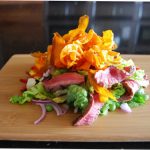 On hot days many people find their appetite reduces. The upside of this is that no one has to slave over a hot stove for hours. The downside is ensuring the family eat well and get the nourishment they need, without overloading their stomachs. Today we have three beef salad recipes that are easy to make, delicious to eat and full of goodness.
Gordon Ramsey's Spicy Beef Salad
This delicious beef salad is packed full of flavour thanks to the delicious Thai-style dressing. The beef sirloin steaks are complimented perfectly with red chilli, garlic and fish sauce.  The steaks take just a couple of minutes on each side, so there's no need to turn the oven on and melt in the heat. Find the recipe here.
Thai Beef Salad with Sweet Potato Crisps
The sweet potato crisps add extra nutrients and the taste fantastic so they're worth going through the trouble of deep fat frying. You can make extra to snack on throughout the day too. The recipe takes about 20 minutes to prepare and 10 minutes to cook. Open the windows put on the radio and follow the recipe, here.
Oriental Steak Salad
Brain Glover shares his tasty oriental steak salad. The oriental flavours compliment the steak perfectly, making a tangy salad that tantalises the taste buds.  The recipe and method can be found, here.
We'd love to see your culinary creations. Show us your beef salad photos by tagging @HerefordBeefUK on Twitter.