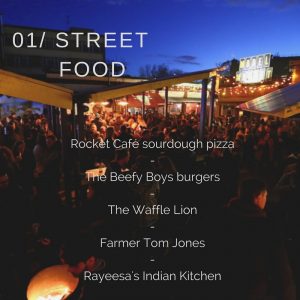 The masterminds from A Rule of Tum (well-known for creating fantastic Hereford beef burgers) have put their skills into creating an incredible food festival. Hereford Indie Food will take place on August 27-28, 2016. Jon Stead, Edwin and Dorian Stark are bringing the flavours of Herefordshire where you'll find plenty of incredible food along with cocktails and the Sunday morning communal breakfast. Early bird tickets are now available and we recommend you get yours before they all sell-out.
What's Happening at Hereford Indie Food
Hereford Indie Food will celebrate independent food makers, chefs, and producers in Herefordshire.  Expect quality street food, a fantastic atmosphere, craft beers, cocktail bars, music, food talks and producer market and much more.   All the fun will take place in the transformed car park behind Burger Shop and The Bookshop on Audrey Street. It's the perfect way to spend the bank holiday.  Here are some of the street foods and bars you'll be able to enjoy over the weekend:
Chase Distillery
The Beefy Boys
Shepherds Ices
Rocket Pizza
The Waffle Barn
The Cyprus Kitchen featuring Farmer Tom Jones
Shack Revolution
Bohns
Fodder Vegan Kitchen
Rayeesa's Indian Kitchen
Churros Con Chocolate
Keg and Cork Bar
Method Coffee
Get your tickets for Hereford Indie Food here.  Day and Evening tickets will be available on the day.
Chef Suppers
The chef suppers will take place over the weekend and tickets are sold separately. Some of Hereford's finest will be creating a unique menu for the occasion. Here are the four services, which one will you choose?
Stephen Terry – Lee Evans
A Rule of Tum – Sunday brunch
Jake Townley – Jake Cured Meats
The Coeliac Chef – James Nugent
Don't miss out, book your tickets today.