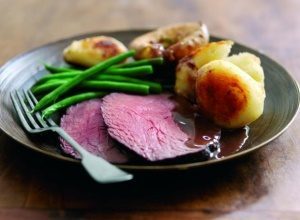 Kantar Worldpanel recently conducted a report that revealed families are now choosing to have a midweek roast dinner rather than waiting for Sunday's. It seems the traditional Sunday roast is becoming a thing of the past. According to the data, 8million roast dinners were enjoyed by families in the UK in the past year. Of those roast dinners, 49% were eaten on a Sunday.
AHDB are running a campaign to encourage families and young couples to enjoy midweek mini roast dinners. The mini roast makes a romantic date night meal, it's easy to cook and it's full of goodness to help people remain strong and healthy.
We have plenty of delicious and easy to cook recipes here on Hereford Beef. Here's a simple roast recipe that is ideal for a midweek treat.
Hereford Roast Beef with All the Trimmings
You really can't beat a classic Sunday roast, even if you have it on a Tuesday. It tastes delicious all week long and you can even use the leftovers for other meals during the week. Our recipe includes everything you could want, from the Yorkshire puddings to the roast potatoes.
Follow our recipe to serve 6 people. The amount of time the roast takes to cook depends on how you like your beef served.
Rare 20 minutes per 450g/1lb plus 20 minutes
Medium 25 minutes per 450g/1lb plus 25 minutes
Well Done 30 minutes per 450g/1lb plus 30 minutes
Ask your butcher or visit your local farm shop/supermarket meat counter and ask for 1.3kg of lean Hereford rump roast or topside joint. Preheat the over to Gas Mark 4-5. Don't forget to take the joint out of the fridge about half an hour to an hour before you plan on cooking it.
Find the rest of the ingredients and the cooking method by clicking here.