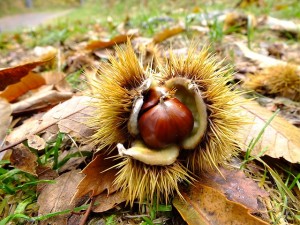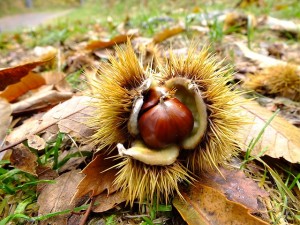 It's the start of the Chestnut season so it's the perfect time to try our Hereford Beef, Beer and Chestnut Pie recipe.  Chestnuts have high levels of carbohydrates but are low in protein and fat, unlike other types of nuts. They're also a natural source of fibre, zinc, iron, manganese and potassium. They work wonderful in the beef beer pie but not everyone is used to cooking with them. We have a few tips on how to buy, stir and prepare your chestnuts if you're going to be using them for the first time.
Buying and Storing Chestnuts
Look for nuts that look fresh and healthy. What you don't want is dried out or shrivelled up chestnuts as they have lost all of their goodness and won't add the excellent flavours you want to your dish. The casings should be shiny and smooth and when you give them a squeeze the nut inside should feel fat.
Once you've selected the finest fresh nuts the next thing you need to do is store them until you're ready to use them. Ideally it's best to cook them the same day if you can but we know that's not always feasible. The best place to store them is in the fridge or in any cool location as the colder temperatures help to delay the natural ageing and decay of the nut.
How to Prepare Chestnuts
Give yourself plenty of time to peel the chestnuts as this isn't a job to be completed in a hurry. Cut crosses into the shell and boil for around 20 minutes (or you can roast them in the oven for about 15 minutes if you prefer). Once they have cooled slightly (but not gone cold) grab three bowls, one for the fresh nuts, one for the shell and the other for the prepared chestnuts.  Peel off the outer shell and remove the skin. Once they have been shelled and peeled they're ready to use in your recipes.
Now all you need to do is decide the best beer to use in your Hereford Beef pie. Come and tell us the beer you choose on Twitter or Facebook.