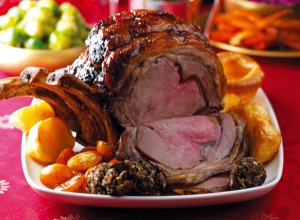 Do you always serve up Turkey for your Christmas dinner? Are you feeling it's time to make a change? Perhaps you have some people in the family that don't enjoy turkey, or maybe you'd like to be a bit different this year and experiment with the Christmas menu. There are plenty of options available to you that will still make an impressive centrepiece on your table.
This is a festive dish that never fails to impress the audience. Our recipe serves up to ten people and takes 1 hour and 40 minutes to cook for 3lb. The ingredients include a 6lb lean fore rib of beef. Ask your butcher to French trim the beef for you if you'd like to save some time.  You'll also need some orange liqueur, halved kumquats but you can use clementines or satsumas if you prefer. Find the full list of ingredients and the method for the Hereford Rib Christmas recipe here.  Serve with some home-made Yorkshire puddings, seasonal veg and roast potatoes.
We found this recipe over on the BBC Good Food website and it really is a stunning dish. The recipe will serve 8 and there are four separate recipes included so you can cook the beef to perfection, served with Yorkshire puddings, roast potatoes and gravy, along with the side dish of braised red cabbage with apples and sherry vinegar, a starter of chicken liver pâté and poached pears with Stilton and walnuts for dessert.  Click here for all the recipes for the complete ultimate roast beef Christmas dinner.
This recipe is perfect for Hereford beef as Hugh does request you use 1 joint of aged rib of beef on the bone or an aged sirloin, on the bone.  You'll find the method if you scroll down towards the middle of the page, click here, plus there are recipes for Yorkshire pudding, beef bone gravy and creamed fresh horseradish.
Are you tempted to serve Hereford beef for Christmas dinner? Visit us on Twitter or Facebook and let us know.