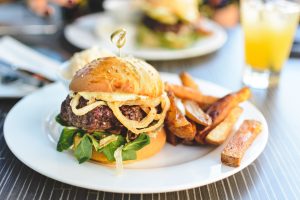 It's hard to resist the BBQ when the sun is shining. Beef burgers are usually on the menu, so we're sharing some great tips on how to impress your family and friends with gourmet burgers that will leave everyone feeling fully satisfied.
Pick quality minced beef from the supermarket, mince your own beef or ask the butcher to mince your beef for you. Many supermarkets now stock Hereford beef mince so it's easy to find it on the shelves of your local stores if you can't find a local butcher or farm shop that sells Hereford beef. Hereford beef has natural marbling that results in the perfect burgers.
Mix your mince together and experiment with different beef burger recipes to add some variety to your menu. Here's one of our Hereford beef burger recipe to get you started but you can't go wrong by keeping it simple with beef and some chopped onion.  Season with salt and pepper once you have shaped the burgers.
Weigh out each burger to achieve consistency.
Use your thumb to make an indent in the middle of each burger to help the burger keep their shape during cooking.
After shaping your beef burgers, wrap them in silver foil and pop them in the fridge for 20 minutes as this will help them to keep their shape when cooking.
Wait for the coals to turn grey before you begin cooking.
Don't use the spatula to squeeze the burgers during cooking as this releases all the juice and removes a lot of the flavour. Flip as much as you want, there's no need to stick to the one flip rule if you don't want to.
Make your own relishes and sauces – they're so much more impressive than readymade sauces and you can control what goes into them.
Serve a selection of rolls to give your guests a choice of bun. Brioche is a popular bun choice that really raises the beef burger to a new level.
Read these tips from The Beefy Boys, they win awards for a reason!