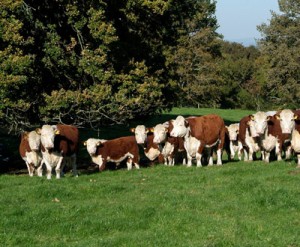 Hereford Beef is known for being full of flavour, its succulence and lots of healthy omega 3 fats and antioxidants. Our beef has an excellent reputation, gaining fans from all over the world, from famous chefs to the best retailers, home cooks and restaurants in the country. In recent years the demand for Hereford beef has increased and it continues to grow, with many of the major British supermarkets now stocking their butchery counters with a wide range of Hereford beef cuts (visit our 'Where to Buy' page for a list of suppliers of Hereford Beef).
"On our travels around Britain we discovered that we are a nation obsessed with beef. We visited many beef producers and, while they were all excellent, the beef from Hereford cattle did stand out as one of the best. The taste is amazing!" The Hairy Bikers
Hereford beef gets it unique flavours from grazing on lush green pastures and living a relaxed life in the countryside. The healthy natural diet (free from grains) and the stress free lifestyle is what adds to the delicious flavours that results in a perfect dish, whether you're dining out or cooking your own recipes in your own kitchen.
"Of all the mobile kitchen dishes we made, the roast Hereford beef was the one people went most bonkers about! They loved it, and rightly so – perfect beef" The Hairy Bikers
Hereford beef is known for quality. Always look for cuts of beef that are deep red in colour as this is a clear indication that the meat has been matured. Other distinctive features include the marbling of fat that is what gives Hereford that unbeatable succulence. The greatest of care is given to the cattle from pasture to plate, something that cannot be replicated.