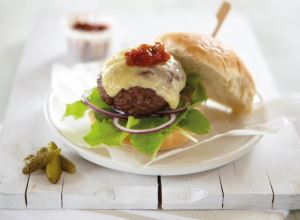 We're getting a heat wave! According to the latest forecasts some parts of the UK might be reaching 30 Degrees Celsius, super-hot! The fine weather combined with the break-up of the schools mean one thing, it's time to get out the barbecue and enjoy some fantastic family time in the garden. Now burgers are always on BBQ menus pretty much but they can go wrong. When mistakes are made the burgers end up shrivelled up, dry and tasteless and that's what we want to help you with. So we thought we'd share some brilliant grilling tips to ensure your family enjoy the best burgers during the hot spell.
Don't Be Afraid to Use Seasoning
Salt and pepper is essential to making a great burger. If you watch cooking shows like Masterchef you'll always hear the judges mentioning the lack of seasoning and the reason for this is that it is so important to the end flavour of the meal. Bland burgers can be avoided simply by adding salt and pepper to the ground meat, there's no need to reach for anything else.
Stop with the Flipping!
There really is no need to flip your burgers more than once as they're grilling on the barbecue. One flip will ensure the meat benefits from the right amount of heat distribution and will help to retain the natural juices that will create a mouth-watering burger. However, you don't want food poisoning so ensure the barbecue is heated up to a high temperature before you begin cooking.
Make Big Burgers
Do you ever buy ready-made burgers that appear really big in the packaging only to turn into a small burger after grilling? As the fat melts inside the burger they get smaller and this is a common problem with many store bought burgers. When you're making your burgers remember that it's a good idea to make big burgers, bigger than you're used to seeing.
Need a recipe? Check out our Bountiful BBQ Ideas for the Summer board on Pinterest or visit our recipe page right here. Don't forget we love to see your Hereford Beef photos and recipes, tag us in your Tweets using @HerefordBeefUK.