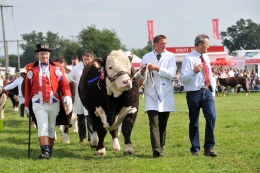 We are now approaching that time of year where families get the chance to learn more about agriculture and the food they eat. Hereford cattle often attend these shows up and down the UK, allowing everyone the opportunity of getting to see this classic British breed up close, they're certainly impressive. At Hereford Beef we're always keen on encouraging beef lovers to learn more about the breed and what makes it such a quality option for the whole family.
Great Days Out for the Whole Family
If you're looking for some fun days out this spring and summer we recommend attending one or more of these fantastic shows. There is always something for everyone to see and enjoy, these shows cater for all ages. Not only do you have the opportunity to see award winning livestock but you'll also find plenty of activities and events such as sheep shearing competitions, incredible displays in the main arenas, pole climbing, showcases of traditional skills, animal petting areas, not to mention the food halls and craft stands that can be found in their hundreds. It's a wonderful opportunity to buy and learn more about the incredible British food and drink.
Hereford cattle will be attending many of these prestigious shows over the next few months, including:
Shropshire Country Show – May 24th
Royal Cornwall Show – June 5th-8th
Royal Three Counties Show – June 14th -16th
Details of all the upcoming agricultural shows can be found here on the Hereford Beef website by clicking this link.
If you do get the chance to attend one of these fantastic shows why not share your photos with us? Tag @HerefordBeefUK on Twitter or post your photos to our Facebook wall.