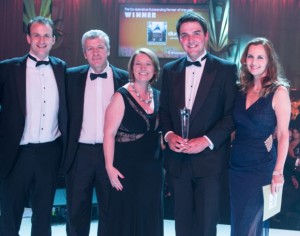 Matthew Brownlee has been named the Outstanding Farmer of the Year Award for 2015 from the Co-Operative Food Group. Matthew, aged 24, managed to beat off competition from farmers across the UK.  He supplies Hereford Beef to the Co-Operative through the Dunbia scheme. He began his enterprise back in 2012 and went on to introduce a Hereford Bull when Dunbia launched the Hereford beef scheme.
Dunbia's chief executive, Jim Dobson, congratulated Matthew for winning the award. He said that Matthew is an exceptional farmer who has transformed the traditional family farm into a successful beef enterprise in just three years. Matthew now supplies Dunbia with 650 cattle per year. He is an outstanding farmer who is looking at ways to improve his organisation's profits.
Matthew also went on to source Hereford calves through the Dunbia Dairy Calf to Beef Scheme that we've previously mentioned on our blog. The scheme links beef and dairy industries, providing a consistent supply of sustainable quality beef and a shorter supply chain. Matthew buys crossbred Hereford calves from a specialist calf reader and rears his own homebred calves. Read more about the Dairy Calf to Beef Scheme here.
"Based in our experience with Hereford bred cattle the future will see a lot more whiteheads grazing in our fields." Matthew Brownlee
Matthew praised the Hereford breed for their natural docile nature that thrives on grass. The cattle is a pleasure to handle, thrives on a reduced input while producing more beef per kilo.
More information can be found here.
Congratulations Matthew!