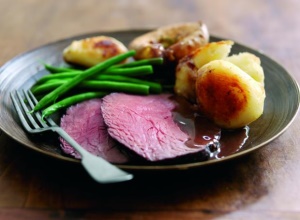 If you stick to the traditional Turkey Christmas dinner why not put Hereford Beef with all the Trimmings on your New Year's Day menu instead. A 3lb Hereford Roast Beef topside joint will feed up to six people and can easily be enjoyed as a special meal or a classic Sunday roast dish. If this is your first year cooking roast beef for your family have a read of our tips below.
Buy the best beef you can. Hereford beef is marbled with fat that gives it a unique flavour and ensure the beef is succulent. Cooking tender beef is easier if you buy quality.
Don't use the beef joint straight from the fridge. Let the meat get to room temperature before you put it in the oven. Once it's finished cooking take it out of the oven, cover it with foil and let it rest for about ten minutes before carving.
Make your own gravy. Instant gravy is very useful but it doesn't have the same wow factor or flavours as homemade. Red wine gravy is perfect to have with roast beef. All you need are the meat juices from the roasting pan, some plain flour, hot beef stock or water and some full bodied red wine.
The flavour of roast potatoes can be elevated by using beef dripping instead of sunflower or olive oil. You could also use duck or goose fat.
When making your own Yorkshire puddings remember not to put the batter in the fridge when you leave it to rest. Make them rise more by adding an extra egg white and make sure they don't stick by using vegetable or sunflower oil.