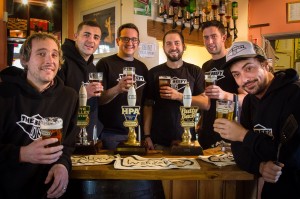 It's always good to end the year on a high note. With that in mind we've decided that our retailer of the month should belong to the one and only Beefy Boys.
The Beefy Boys enjoy nothing more than serving up the most delicious Hereford Beef, grilled to perfection along. It's impossible not to be drawn into their passion and drive for the finest Herefordshire foods and the best of times.
The Beefy Boys have popped up all around the UK but they've also taken their Hereford Beef Burgers global. In November of this year The Beefy Boys, sponsored by Wye Valley, headed to Las Vegas to compete in the World Food Championships. At the Championships they proudly showcased their perfect 21 day aged Hereford Beef Burgers along with Pulled Pork and their Butty Bach BBQ Beef Brisket and took on 50 other food teams from around the world. Despite the incredible level of competition the Herefordshire lads secured second place for the Best Burger Team in the world and their Butty Bach Burger topped the final round as the World's Best Burger.
The Beefy Boys are a group of six amateur cooks, Anthony Murphy, Daniel Mayo-Evans, Christian Williams, Chris Williams, Lee Symonds and Steve McGowan. They began their pop-up grilled food in 2012 and went on to quickly enter Grillstock in the same year and each year since. They finished in the Top Five for two years and this year they took home the Best Burger crown.
Their energy, their food and their dedication to spreading the best of Hereford around the UK and the World is intoxicating and we can't see what they come up with next.
If you fancy trying the Best Hereford Beef Burger visit their website for details of their pop-up dates or follow the Beefy Boys on Facebook.