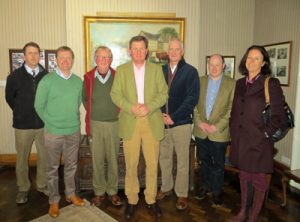 The Herefordshire Agricultural Club recently attended the historic Hereford House for their latest Committee meeting.
Historic Hereford Connections
Many of the members have a connection to the Hereford breed. Bill Quan, the Club Chairman, has a long history in Hereford. His grandfather, Mr. W Milner, was the President of the Hereford Cattle Society in 1957 and his uncle Richard Milner was President in 1981 as well as the former chairman.
There are further connections within the Committee too.
Tom Nellist is the Honorary Secretary of the Herefordshire Agricultural Club attended the 1966 World Famous Vern Sale
Jo Hildich is from Whittern Farms and Herefordshire Cassis/ White Heron Drinks and also appeared on Dragon's Den is the great grandaughter of Mr. Green who was the President of the society in 1893.
Owen Whittall's late father Laurie Whittall was a ring steward at Society Shows and Sales. The love for the Hereford breed continues to be passed down the family line as Owen's son CT Whittall is a Young Hereford Breeder at Moccas Herefords.
The Committee finished the evening off by visiting the A Rule of Tum where they enjoyed the Hereford gourmet burger. A Rule of Tum was founded in 2013, they are dedicated to serving honest dishes and are passionate about using local and seasonal ingredients. They use Hereford beef in their burgers, which is supplied by Tom Jones.
Learn more about the Herefordshire Agricultural Club, here.