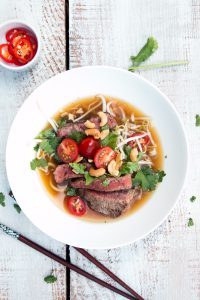 Eating healthily doesn't mean you have to eat only boring foods. One of the best ways to ditch the processed and unhealthy foods is by choosing better quality foods. Your plate should be colourful, vary in texture and be packed full of goodness.  You're more likely to stick to a healthy diet if you serve meals that are full of flavour and quality foods that will leave you feeling satisfied once you've cleared your plate.
Today, we're sharing three recipes that are packed full of quality, healthy ingredients.
Hereford Beef Ramen
This is a perfect meal to serve the family. It's full of goodness but it's also very quick and easy to make.  Get the kids involved and teach them how to throw together this healthy and tasty dish. The recipe serves 4 people and requires 2 x 8ox rump or sirloin steaks. You can use either chicken or beef stock, chicken gives a lighter flavour than beef. Click here for the complete list of ingredients and the cooking method.
Beef and Bean Chile Verde
Beef and bean Chile Verde is a great recipe that is low calorie, low in sugars and beneficial for a healthy immunity and healthy aging. It's gluten free that uses minced beef (check here for a list of Hereford beef retailers or ask your butcher) and it takes 30 minutes to cook. Click here for the full list of ingredients and the cooking method.
Hereford Beef Damson Pots
If you want to find a simple way of adding more vegetables into your diet we recommend trying the Hereford beef and damson pots. The recipe calls for parsnips, onion, celery, damsons or plums. It's bursting with flavour and will leave you full and warm at the end of a long day. You can serve with wholemeal bread but it tastes even better served with plenty of seasonal vegetables. Ask your butcher for 450g of lean braising steak. Here's the complete list of ingredients and the cooking method.