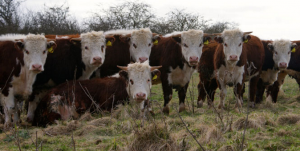 There's nothing quite like escaping to the countryside for a few days, sleeping under the stars, seeing nature at work and breathing in lots of fresh air. You also can't beat serving up some healthy and organic Hereford Beef, with all of its natural marbling that is one of the benefits of the Hereford Breed. When we found Farncombe Farm in Berkshire we knew they needed to be featured as our Hereford Retailer of the Month as they offer camping, glamping and the finest Hereford Beef fed on grass pastures.
Brunskill Meat
The farm dates from the early 1900's but it underwent a transformation back in 2000 when the entire farm was plented with old fashioned grasses and the farm decided to farm without the use of any pesticides and chemical fertilizers. There is a pedigree breeding herd of Traditional Hereford Cattle that enjoy grazing in the natural fields while being taken care of down on the farm. The family continue to be dedicated to maintaining the Hereford Cattle blood line while treating their cattle to the best stress free life possible.
You can order specific cuts of beef or a set sized joint of your choice by giving Farncombe Farm a call on 01488 71833. You'll also find plenty of choice of steak, from fillet to sirloin, a variety of joints including topside and shin, braising steak, mince and premium beef burgers. Meat boxes are also available, which include:
Roasting Joint
Premium Mince
Slow Roasting Joint
Braising Steak
Rump Steaks
Camping, Caravanning and Glamping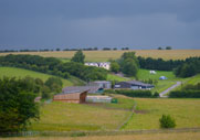 Farncombe Farm is certified by the Camping and Caravanning Club. It's a beautiful location that is able to boost a variety of birds and wild flowers, the handsome Hereford herd and the popular owls that have thrived in the dedicated owl boxes. The site has a toilet block and electrical hook ups along with glorious views. If you like the idea of visiting the countryside but aren't too keen on spending a night under canvas we recommend booking the Shepherd's Hut. You will be treated to a glass of wine on arrival and breakfast delivered to your door. Perfection.
To learn more please visit the Farncombe Farm website and follow their official profiles on Facebook and Twitter.