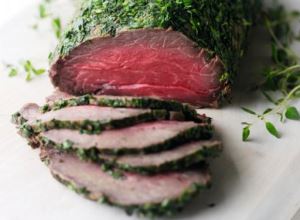 Not everyone is happy to eat a full roast dinner when the weather is hot. The good news is you can enjoy beef all year round without having to sit and sweat while you're eating it. We've found three delicious beef sandwiches that will ensure you satisfy your Hereford beef craving whether you're off on a picnic, sat in your own garden or if you need to get rid of your leftovers.
Chicago Italian Beef Sandwich by Chef John
This is a sandwich that uses stew beef rather than sliced roast beef. Stew the seasoned beef, sear it with some oil and add garlic, your favourite spices and herbs and chicken broth. Once the meat is brown add more garlic, red pepper flakes and white wine vinegar. Let that simmer for an hour to an hour and a half until it's tender. Use a crusty roll and saturate it with the broth from the beef. Add the beef and a selection of your favourite pickled vegetables. Cut it in half and poor your beef juice to a ramekin to dip.
Roast Beef Horseradish Roll-Ups
These are an excellent alternative to sandwiches as they use flour tortillas instead of bread. You can either use your left overs or cook the beef in advance to enjoy these roll-ups throughout the week. They're also great additions to school lunch boxes for when the kids go back in September (not long now!). You need cream cheese, horseradish, Dijon mustard, tortillas, deli cooked Hereford roast beef, grated cheese, spinach leaves and the tortillas. The roll-up recipe can be found over on the All Recipes website.
Beef on Weck
This is a sandwich that comes from Buffalo in New York. It uses Kaiser Rolls, thinly sliced roast beef, caraway seeds, a jus sauce and horseradish. The rolls are covered in a slight salty crust so if you're trying to cut down on your salt intake replace the Kaiser rolls with a crusty roll instead. Find the recipe by clicking here.
Do you have a favourite beef sandwich? Let us know by tagging @HerefordBeefUK on Twitter or by posting to our Facebook wall.