The Beefy Boys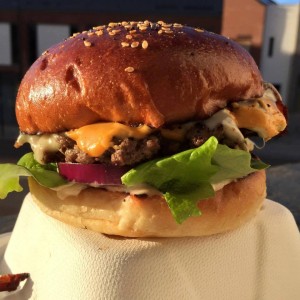 opened their long-awaited restaurant at the end of 2015. It's only been a few months but the band of guys and gals are already receiving excellent reviews on their award winning burgers and the restaurant as a whole.
The Beefy Boys are found at the Old Market in Hereford (put HR4 9HR in your Satnav, you won't regret it). The restaurant is open 7 days a week, opening at 11am and serving food all the way up to 9.30pm. You'll find a range of delicious burgers on the menu, along with soft drinks, beer and even cocktails. There are indoor and outdoor seats available but expect it to be packed out, you may want to book a table if you're coming a long way. The good news is that there's a takeaway menu too, good news if you arrive to find there are no seats available.
Burger Lad Reviews The Beefy Boys
One of the latest reviews comes from Burger Lad – the UK's top burger review sites. It's a good read, detailing the décor – industrial style lighting and cool artwork – and the burgers themselves. By the end of the review you're going to feel rather hungry so perhaps read it on a full stomach if it's too late to run to The Beefy Boys to grab the featured Butty Bach.
The Butty Bach is an impressive burger, made from 100% Hereford beef, bacon, cheese and salad. You'll need to make good use of the kitchen roll as it is a messy eat, but the mess is really worth it.
You'll find even more reviews if you visit Trip Advisor.  The staff and the service al receive great praise, adding to a fun and satisfying dining experience for anyone looking for the perfect burger.
The Beefy Boys have come a long way in a short time. They recently won the UK Burger Battle in Birmingham and who can forget when they won the World's Best Burger accolade at the World Burger Championships in Las Vegas, 2014. They are putting Hereford on the map!