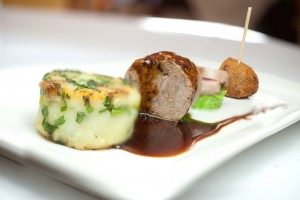 Good news for anyone planning on staying at one of the Robert Parker Hotels. All guests can now enjoy Hereford beef, sourced from Mr Parker's very own herd, in a share farming agreement with Haydn and Emma Jones. Not only is the beef served to his collection of hotels, it's now also being delivered to a leading supermarket.
Pedigree Hereford Beef Herd in Shropshire
The Tedsmore Hereford Herd enjoy life on the 200 acre traditional Shropshire farm. The beef is hung for 28 days before being butchered based on the requirements of each chef from his hotels.  It's completely traceable back to the farm which has excellent animal welfare standards.  The farm also has 250 plus Welsh mule breeding ewes and was first established in 2007.
Fine Dining at the Robert Parker Collection
The chefs from hotels including Eshott Hall and Doxford Hall, all decide on what cuts of beef they would like to use in their menus. If you're dining at Doxford Hall you'll find succulent beef sausages being served at breakfast. You could also enjoy fillet steaks with caramelised onions on the a la carte menu. The fillet steaks come from the whole carved Hereford beef sirloin and served with butter kale risotto and a port wine jus.  Delicious!
There's nothing better than enjoying the highest quality beef that can be traced every step of the way, from field to fork.  Customers can dine in confidence, knowing they're getting the best quality assured beef from a fine pedigree Hereford herd.
Learn more the Robert Parker collection of hotels, http://robertparkercollection.co.uk/here.