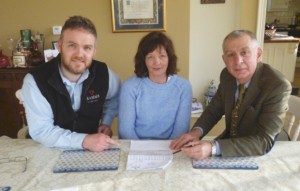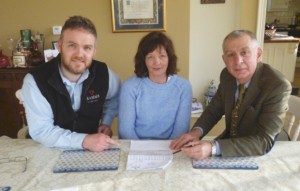 The Hereford has been introduced on a farm located in Fermanagh Lakelands, resulting in handsome dividends for Terry and Rosie Roberts. The couple decided to experiment with Herefords after their 200 strong herd ended up having a high proportion of black females. Rosie prompted the addition of the Hereford bull thanks to her happy memories of Hereford cows on her home farm and in 2012 the bull was purchased from a Hereford sale in Dungannon.
Since then Terry and Rose have been thrilled with the performance of the bull, the breeding females and the beef. There is a great demand from the Co-op chain and the local butcher, Stephen Millar, is very keen to take the beef off their hands.  Stephen's customers love the taste and the quality leaving the butcher with the need to buy plenty more to satisfy the high demand.
Terry and Rosie have decided to continue using The Hereford and give it a larger role in their farming in the years to come. A decision made as a result of reduced feeding costs, excellent beef and the wonderful temperament of the cattle.