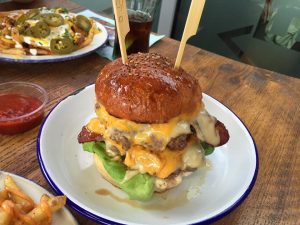 It's Father's Day this Sunday. It's the perfect time to gather the family and go out for some great food together. Here are five excellent food joints where you'll find Hereford beef on the menu.
If your dad loves a great burger and a beer we can't recommend visiting The Beefy Boys enough.  Booking ahead is advised but you can always take your burger away if you arrive and all the tables are taken.  There are lots of incredible burgers to choose from along with delicious sides and fries. Why not try the millionaire fries or perhaps the bacon fries with your burger? Please remember that the restaurant closes at 8pm on a Sunday.
Treat your dad to a trip to The Ivy. You'll need to make a booking and pay attention to the smart casual dress code, no shorts allowed.  There's plenty of choice on the menus, there's something for everyone.  Don't forget to order a cocktail while you're there.
The Camberwell Arms has a delicious menu and is the perfect place to visit for Sunday Dinner. You can book in advance or risk finding an empty table upon arrival, which are given on a first come first served basis. There's a delightful bar to wait if you're added to the waiting list.
Enjoy the best of British steak at The Herd Restaurant in Somerset. You'll find Hereford Beef on the menu, which have been reared locally in Coulston and aged for 21-28 days in Devizes.  Each steak is served at its finest and full of succulent flavours thanks to the natural marbling within the beef.
The Verzon is where you'll find delicious local Hereford produce, including their own pedigree Hereford Beef and locally brewed beers. The Verzon have a passion for using the amazing ingredients that are produced by Hereford farmers and they create incredible dishes that highlight the natural flavours of the produce.