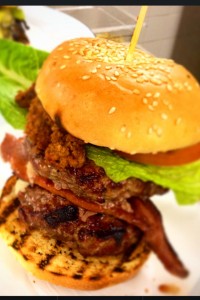 At only six months old, burgerworks have quickly gained an excellent reputation and they are already making waves in gourmet burger gastronomy. Located in Worcester, the small team of seven have made their mark by serving their guests only the finest local foods. They're fully committed to quality, sourcing their Hereford Beef from Dayus Butchers, along with local juices and beverages from Clive's Fruit farm and Bar Wholesale, natural spring water from Holywell Malvern and fresh fruit and vegetables from Pershore Produce, to name just a few!
"We tried a lot of meat from various suppliers and it was all great, however when we tasted the Hereford Beef from Dayus we knew that we had to use it!" Julia – burgerworks
The burgerworks 100% Herefordshire burger is ground and char-grilled to perfection by the owner and head chef Arvin along with his daughter in law Imi and second chef Steward. The front of house team and restaurant is managed by Arvin's youngest daughter, Julia and Abby. The rest of the team is made up by Shaw and Leon who have been serving customers at burgerworks since day one.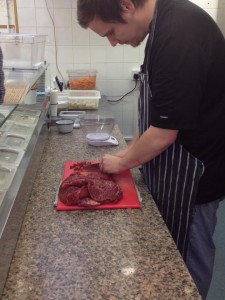 Learn more about burgerworks, check out the menus (eat in and takeaway), the opening hours and sign up to the newsletter by visiting http://www.burgerworks.uk. You'll also find them on Facebook and Twitter, but we highly recommend you take the time to sample their 100% grass fed Herefordshire beef burger and other delicious bites by popping along to their restaurant in Friar Street, Worcester. Book your table to avoid disappointment by emailing burgerworks.uk@gmail.com or call 01905 27770.