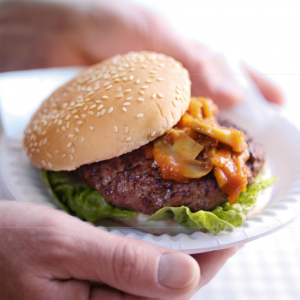 Tomorrow is the day when we celebrate National Burger Day. There's no need to struggle over deciding what to cook for dinner, it can be only one thing, burgers! We have some delicious burger recipes for you to try and don't forget to read the five tips kindly shared with us by The Beefy Boys to make the best burger ever!
If you don't fancy cooking or getting your hands dirty with Hereford Mince Beef (available to buy from these retailers), there are many restaurants and burger bars around the country that are celebrating National Burger Day in style. Mr Hyde has a list of all the restaurants that are offering 20% off their burgers for today only, along with some unique dishes that they'll be serving up. Visit the Mr Hyde National Burger Day website, select your area and you'll be shown the nearest restaurants taking part in the deal.  You will need to visit the website and fill out the voucher form in order to save 20% off, but many restaurants have specials running all day too. Don't forget to visit your favourites burger joints too; they may also be taking part.
For those of you in the capital, we recommend heading over to the Mr Hyde National Burger Day Party.  The ticket only event takes place at Dalston Yard where there will be 18 sliders served up by some of London's most talented burger chefs. There will also be two burger desserts to try and 10 bars serving plenty of beer and whiskey. If the tickets have sold out you're bound to find plenty of other restaurants throughout the city that are offering incredible deals.
Making Your Own Burgers
Here are two of our own burger recipes for you to try at home. You'll need 450g of mince beef for each recipe, click the links for the rest of the ingredients and the methods.
Come and share your burger photos with us over on the official Hereford Beef Facebook or Twitter Page, we'd love to see them.