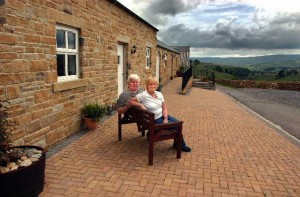 Our February Retailer of the Month award goes to Jan & Harry of Low Cornriggs Farm, in the North Pennines. Low Cornriggs Farm has so much to offer, a beautiful location, characteristic accommodation, craft courses and quality food, including fabulous Hereford Beef, reared on the farm itself.
Bed and Breakfast and Holiday Cottages
Looking for a gift for Valentine's Day? Or feel like taking a break away from normal life? Low Cornriggs Farm offers bed and Breakfast, with large rooms with beautiful views and award winning breakfast. Dinner is also available on most evenings, giving you the perfect opportunity to taste Jan's Hereford Steak and Ale Pie, which has won the AA Pie Award for 10 years!
Five star holiday cottages are also available. The cottages are located on the farm, close to the picturesque village of Cowshill. Each of the cottages is detached and boosts spectacular views over the High Pennines. The cottages are wonderful for anyone who wants to escape to the country.
Home Cooked Meals and Meat Straight from the Farm
Jan has won plenty of awards for her culinary delights, including The Taste of Durham Award for Local produce Champion. Some of the popular dishes served up at Cornriggs Farm are:
Home reared Hereford beef, beer and shortcrust pastry, with seasonal veggies
Braised Hereford Steak with homemade Yorkshire Puddings
Roast Chicken breasts, crispy bacon in a white wine and cream sauce
Warm summer pudding
If you don't have time to treat yourself to a two or three course meal, buy your meat from the farm gate and get the best produce in small or large boxes.  Be sure to call ahead as the Hereford Beef is very popular and is often sold out.
Find out more about Cornriggs Farm by visiting the website or by calling 01388 537600.